Luke's latest release – Hard Sardine – May 18th, 2021 – was recorded in Winona, MN by Noah Glenn Short.  This self produced album features Lauren Anderson on Bass – Elliot Heinz on Drums – Wolf van Elfmand on guitar – Joe Kopel on guitar and harmony vocals – Siri Undlin on harmony vocals – Noah Short on organ – and Adelyn Rose on clarinet.
Itunes – Apple Music – Spotify – Bandcamp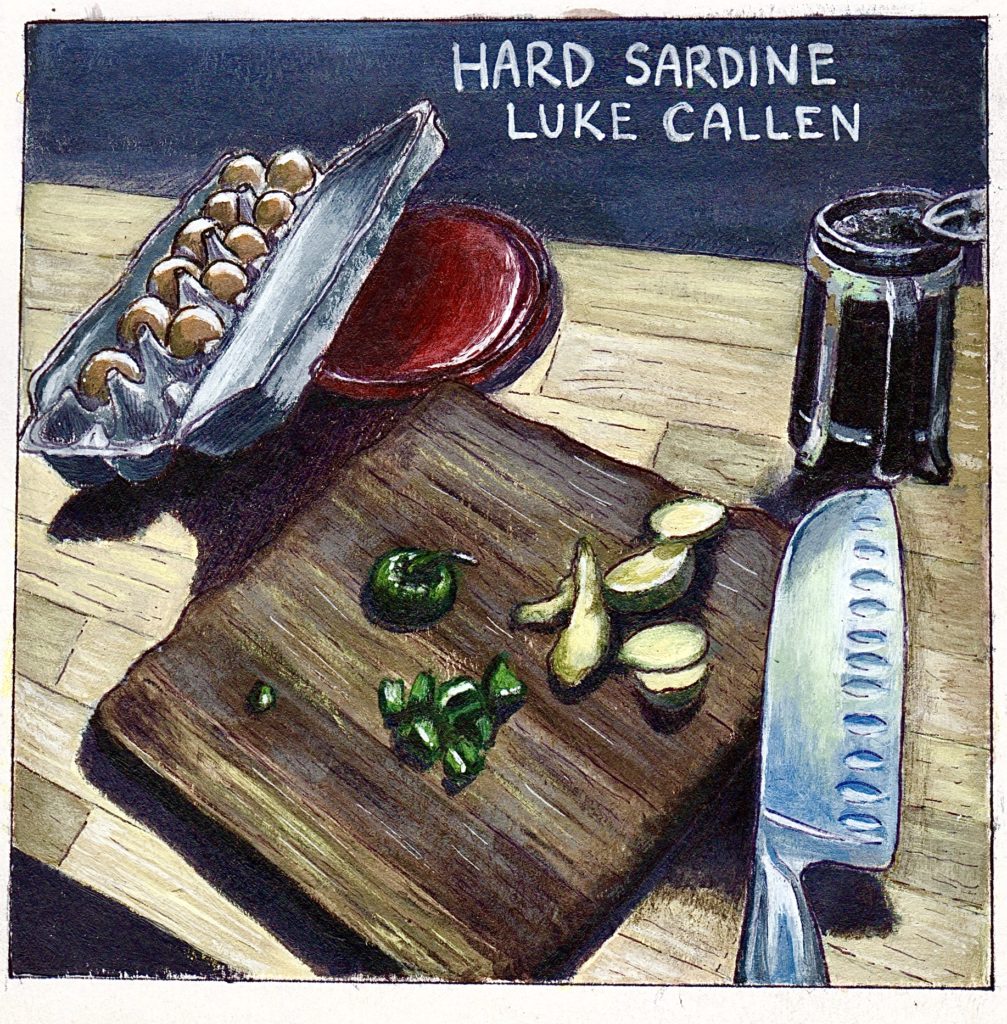 "He's Good" – Charlie Parr
"You know I don't ever do this…but let me get that glass of whiskey for ya – you're good" – Storied First Avenue Bartender
"You're like…legit" – Eau Claire Sound Engineer
The reviews are in folkx – Luke Callen is a fine songwriter – singer – and player.
At the intersection of Harry Smith's Old Weird America – the songs of heartworn highways – and the tumult of today you can find the music of Luke Callen.  The songs – equal parts tragic comedy and hopeless reverie – paint a picture of the places and people that make up his earthly home.  A poet – a player – a folk singer – Luke has traversed his country unraveling tall tales – short tunes and all that's hidden underneath. 
 Originally from the river town of La Crosse, Wisconsin – the heart of the Driftless Region on the Mississippi River – and currently lives in Minneapolis, Minnesota by way of Colorado  Luke brings his humble sense of humor and humanity wherever he may go.  Luke's second studio effort Also Going Nowhere is set to be released in the late winter/early spring of 2024.  Produced by Erik Koskinen and tracked at his studio – Real Phonic Records in Cleveland, MN – it features Lauren Anderson (Bass), Chris Gray (Drums) – Franky Moscow (Keys) and Erik Koskinen (additional guitars).  This 11 song effort shows a maturity in Luke's songwriting – a new sense of groove – and what all great records have…a little love, a little pain, a little laughter and few tracks for to dance.  
Luke has played hundreds of shows spanning both coasts, the American west, south and heartland.  He has had the opportunity to provide support for Dom Flemons, Dead Horses, The Dustbowl Revival, Kacy & Clayton, James McMurtry, Whiskey Shivers, Charlie Parr, The Lowest Pair, The Last Revel, Lilly Hiatt, Chicago Farmer, and Robbie Fulks among others – You can follow his travels on Facebook – Instagram or in real actual life.
"No dog ever eats Luke Callen's homework. He does it all. He turns it in ahead of time. Not for a grade. Not for extra credit. It's his work and he's good at it.  Poet. Singer. Player. Just listen. First he captures your attention. You want to make comparisons with the giants whose shoulders he stood on. But don't. He's plenty tall enough in his own bare feet and his shoulders are wide enough to hold up the next batch of poets, singers, players. Keep listening. Now he captures your imagination. Luke is the hitch-hiker who picks you up. Get in. Toss your bindle in the back. Have you got a couple bucks for gas? No matter. He's going take you all around the world.  Pay attention. He's going to show you everything that's in it. And it's right Below Your Knows."
-Eddie Allen